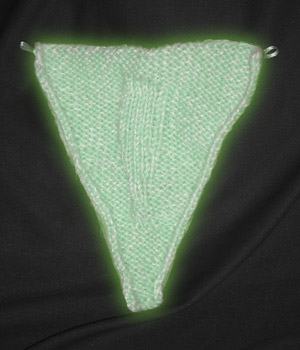 Anthony Ascione (photo)
Zabet Stewart (illustration)
(We couldn't get a good shot of it glowing,
so this is our "artist's rendition.")
Supurbia
Pudenda, a once-common euphemism for the female genitalia, comes from a Latin word that means (roughly) "shame." But times—and terms—have changed. (Aren't we all glad we don't have to ask our lovers to "touch my pudenda?" Talk about a mood-killer.) Personally, I don't have a lot of shame when it comes to my genitalia, which is why I named this merkin Superbia—Latin for "pride." It says, "Hey, I might be covering it up, but I sure as hell ain't ashamed!"
Suggested Reading
Cunt: A Declaration of Independence
by Inga Muscio
Difficulty
MoonPrincess RavenDark
Click here for definitions of difficulty levels.
Finished Measurements
6"/15.2cm W across widest point x 6"/15.2cm H
Download
Suburbia Chart (pdf format)
Materials
Bernat Glow in the Dark [70% acrylic/30% polyester; 72yds/66m per 1.75oz/40g skein], one skein
US 5/3.75mm knitting needles
Small piece of cotton fabric (approx. 8"/20cm square)
Sewing thread and needle
Tapestry needle (for weaving in ends)
Sharp scissors
Marker
Pins, straight or safety (optional)
Gauge
26.5 stitches and 33 rows per 4"/10cm in stockinette.
Design Notes
The piece is worked in reverse stockinette with a stockinette motif in the center.
Directions
Knit:
Cast on 34 stitches.

Download and follow the chart. Note that Row 1 of the chart will be the WS; this is to keep lovely matched decreases on a row when you are knitting every stitch but the motif stitches. Remember, since the piece is worked in reverse stockinette, the WS is the smooth side of the fabric.

Bind off and weave in ends.
Apply Backing:
Lay your merkin on the square of fabric and trace its outline with the marker. Cut inside the lines by about 1/2 inch. (Precision isn't terribly important in this step; just make sure your fabric triangle is not larger than your merkin.) Using the needle and thread and making small stitches, sew the merkin to the fabric triangle, knit-side down. Pinning the corners will help ensure a proper alignment.
Wearing:
Affix to bare skin with spirit gum, or add small loops of ribbon to the top corners and wear on a chain or belt.
About
contact Ann: • legal info