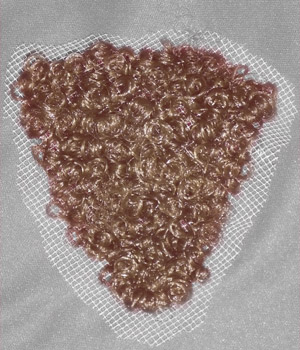 Anthony Ascione (photo)
Classique
Shave a little more than you meant to? Thinking about growing it back and want to figure out what looks good? Just want to try a new color? This is the merkin for you.
Suggested Listening
"Crablouse" Private Parts
by Lords of Acid
Difficulty
Boy Scout Dropout
Click here for definitions of difficulty levels.
Finished Measurements
3.5"/8.9cm W x 4"/10.2cm H, but you can make whatever size and shape you like.
Materials
Pencil
Smal embroidery hoop (3"/7cm)
Tulle (5"/12cm circle)
Curly doll hair (1 package; uses very little), your choice of color
Tapestry needle
Scissors
Design Notes
Doll hair is usually hidden away, waaaay in the back somewhere in craft stores, so you'll probably have to ask for it. Sometimes there's a large variety, but usually not so much. The smallest, tightest curls hold the shape best.

Tulle is very fragile, so you need to be careful not to tug too hard or it will tear. A few small tears will not show up, but too many and you'll end up with a patchy, balding merkin, which may or may not be the look you are going for.
Directions
Sketch Outline:
With a pencil, lightly draw on the tulle to outline the shape you wish to fill with hair. I wanted mine to be a neat triangle, but any shape will do: heart, flower, fleur-de-lis, clover...be creative!
Add Doll Hair:
Put tulle in embroidery hoop. Pull out about 15 inches of doll hair, thread it onto your tapestry needle, and gently pull it through the tulle from front to back, leaving 3/4 inch on the right side. Move over two squares and insert the needle from back to front, holding the tail on the front side so you don't pull it through by mistake. Move over two squares and insert the needle from front to back, leaving a 1.5 inch loop. Repeat until your outline has been filled, moving the hoop if necessary. Remove from embroidery hoop.
Finishing:
Trim tulle to within 1/4 inch of the outline, being careful not to snip the loops of hair. Attach with spirit gum or similar adhesive.

Tah-da!
About
contact Edith: • legal info