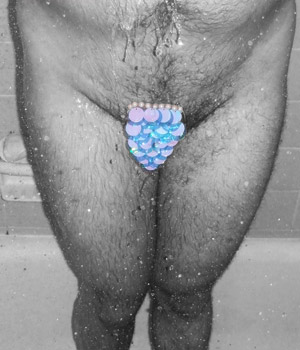 Mama Cat (photo)
Anthony Ascione (model)
Piece of Pisces
One of them was this cute little yellowtail / And she's giving me the eye / I figured this is my chance for a little fun / You know, piece of Pisces.
—Kip Adotta
Suggested Listening
"Wet Dream (The Fish Song)"
by Kip Addotta
Difficulty
Boy Scout Dropout
Click here for definitions of difficulty levels.
Finished Measurements
Approximately 3"/7.5cm W by 4"/10cm H
Download
Piece of Pisces Pattern (pdf format)
Materials
Flesh toned craft felt
Scissors
Thread to match felt
Hand sewing needle
24 1"/2.5cm iridescent aqua paillettes
24 .75"/1.9cm iridescent light blue paillettes
12"/30cm of 4mm "string of pearls" trim
3 jumprings (optional)
Design Notes
If you have trouble finding loose paillettes (as I did) look in the trim section of your local craft or fabric store. I took apart a fashion fringe trim to get the paillettes for this project.
Directions
Cut Felt:
Download and print out the Piece of Pisces Felt Pattern. Trace the pattern onto the felt twice, and cut each piece out.
Sew on Paillettes:
With doubled thread, begin sewing paillettes to one piece of felt, thus: bring the needle up through the felt about .25"/.9cm from the bottom point. Place one 1" paillette and one .75" paillette on the thread, then put the needle back down through the felt a little above where you brought it up. Hold a 1" paillette so that it overlaps the first pair about halfway down, and just overlaps the holes of the first pair. Bring the needle up through the felt and the hole on the new paillette, add a .75" paillette, and put the needle back down through the felt a little above the paillettes. Continue sewing on paillettes in the same manner, overlapping each row over the previous row by about half, and each pair of paillettes over the ones next to them by just a bit, until you have all 24 pairs sewn on. You should have eight rows of paillettes, sewn on in a brick pattern as depicted on the download.
Add Trim:
Place the second piece of felt over the back of the first piece of felt, lining up the edges carefully. Align the string-of-pearls trim along the edges of the felt, with the end of the trim at the bottom point of the felt, under the first pair of paillettes. Whip stitch the trim around the edges of the merkin, making sure to sew through both layers of felt. Cut off the excess trim.
Strut:
Apply the merkin to smooth, hairless skin with spirit gum, or, optionally, sew a small jumpring to the back of each corner to which to tie thin ribbons or monofilament line, g-string style.
About
contact Carin: • legal info