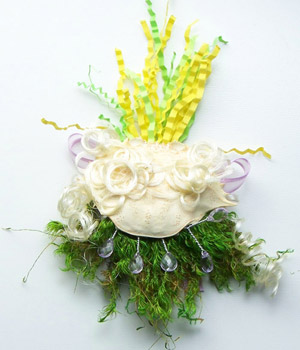 Michael Kerney (photo)
Mer(maid)kin
A merkin fit for a mermaid!

Uh...fit for a mermaid with pubic lice...

Filthy sailors!
Suggested Reading
"The Mermaid"
I'm So Good I Don't Have To Brag
by Shel Silverstein
Difficulty
Rrrrgh . . . . Brains . . . .
Click here for definitions of difficulty levels.
Finished Measurements
5.5"/14cm H x 4"/10.2cm W
Materials
Hot glue gun and 2-3 sticks of glue
Moss, 1 hunk
Decorated flower pick
Crab shell
Paper Easter grass, green and yellow
2 buttons
Scraps of ribbon; any color, about 5 inches total
Doll hair
Other doo-dads as desired
Design Notes
Decorated flower picks can found in the wedding area of craft stores. Moss can found in the floral aisle of craft stores. If you live inland, crab shells can be found in the frozen aisle of grocery stores, sold as stuffed crab; cook and eat the filling first and wash the shell thoroughly with dish detergent.

I found it helpful to plan out my materials and put the merkin together ahead of time BEFORE I even warmed up the glue gun.
Directions
Moss:
Untwist flower pick and bend the strands into a pleasing shape. Wrap the bare end of the wire securely around your hunk of moss to help keep the moss from shedding. Make sure the decorations (beads, etc) are low enough to show below the crab shell. Liberally apply hot glue and apply to the inside of the shell.
Grass:
Tie a small bunch of Easter grass together with a bit of ribbon. Smash it flat so that it won't make the merkin stick out weird when worn. Glue the bunch of grass onto the back of your merkin.
Buttons and Bows:
Twist a small piece of ribbon into a pleasing shape. Put a dot of hot glue onto one upper corner of the back of the merkin, add the ribbon, and top with a button. Pretty! Repeat on the other upper corner.
Hair and Other Doo-dads:
Glue some doll hair onto the front of the crab shell. Decorate as you wish, with other random bits of craft-goodies you happen to have.
Wearing:
Measure a length of ribbon or fishing line long enough to go around your waist and tie through the ribbon loops. Adjust as necessary.
About
contact Edith: • legal info