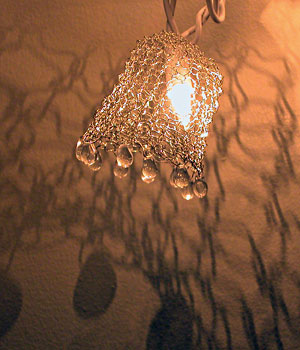 Excruciatingly Painful Party Lights
I think I'm a masochist. I love knitting with wire, but every time I do it I think of a new and horrible way to do it that will up the pain ante. These lovely little lampshades for jazzing up any old plain strand of lights are knit on US 2 needles, which gives the resulting "fabric" roughly the same texture as a parmesan cheese grater. But they sparkly! Don't nobody can resist sparkly! Whoops, sorry, I was just channeling our High Priestess of Shameless Promotion there.

I couldn't help but think of The Little Mermaid as I was knitting, and not the happy, singing Disney version, but Hans Christian Anderson's version: "Every step she took was as the witch had said it would be, she felt as if treading upon the points of needles or sharp knives; but she bore it willingly..." The mermaid and I, we're both a little dumb, but we do like our sparklies.
Suggested Reading
The Little Mermaid
by Hans Christen Anderson
Difficulty
Strong Intermediate
Click here for definitions of difficulty levels.
Finished Measurements
Approximately 2" H x 1.25" W.
Materials
1 strand of christmas/halloween/garden/fairy lights, any length
1 pair US 2 (2.75mm) bamboo or wooden needles
1 US 3 (3.25mm) bamboo or wooden needle
1 US F (3.75mm) crochet hook
28 gauge craft wire, silver
15 clear glass teardrop-shaped beads per shade you are going to make (i.e., if your strand of lights has 10 lights on it, you will need 150 beads)
Gauge
12sts x 16 rows = 4"
Pattern Notes
If you have never knit with wire before, we strongly recommend you read Down to the Wire from the Samhain '05 issue first, or have a good reference book handy.
Directions
Begin:
On size 3 needle, CO 30, placing a bead between every other cast on stitch. (Evenly space 15 beads between 30 stitches.)
Change to size 2 needles.
K 2 rows straight.
Next row:* k1, k2tog, k across.*
Repeat from * to * until you have 26 sts
K straight until piece measures 2 inches from cast on edge.
Attach to light:
Stretch the wire fabric so that it is as large and firm as possible. Cut the end wire leaving about a 10" tail. Gently slide the stitches off the needle. Run the tail through the live stitches. Pull gently to make the sides of the piece come together. Put a light through the hole this makes. Pull the tail end of the wire tighter around the plastic base of the light until it is fastened tightly. With size F crochet hook, slip stitch the two sides together. There will probably be some overlap at the top, so just pick your line and crochet down it until you are crocheting the sides together.
Finishing:
Block/bend the wire into a bell shape. If you have trouble with the side opposite the seam not having enough structure because your beads aren't heavy enough to pull it down, take a length of wire and crochet a fake matching seam down that side.
Repeat until all little lights on your strand are covered.
About