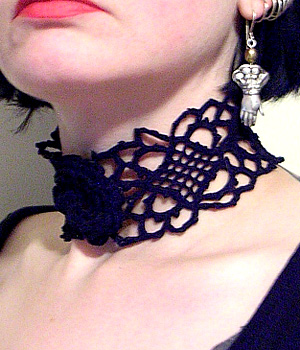 Asphyxiation
updated 8/9/06
This choker uses Venetian Crochet motifs taken from a vintage tablecloth pattern (Needlecraft, December 1916) and a rose from an Irish Crochet collar and cuffs set (Needlecraft, November 1914).
Difficulty
Loose Woman
Click here for definitions of difficulty levels.
Finished Measurements
Choker is 12" long but can be lengthened by additional rows or by adding motifs. Size of finished choker can be affected by substituting other yarns and/or crochet hooks.
Download
Asphyxiation Figures 1-6 (pdf format)
Materials
Size 1.90mm or 2.0mm crochet hook
1 ball South Maid crochet cotton, black
3 sets of Dritz #3 hooks & eyes, black or 3 sets of sew-on snap fasteners, black
Abbreviations
Ch chain
Sc single crochet US (same as double crochet UK)
Dc double crochet US (same as treble crochet UK)
() parentheses indicate a section to be repeated
Design Notes
The directions are to crochet the motifs together as you go, but the motifs can also be crocheted separately, blocked, then sewn together with matching thread.

This choker was made with four motifs, but depending on the length you need can lengthen it several ways:
1. To make it about 3 inches longer, make the choker with five motifs. 2. To make it about an inch longer, add a repeat of rows 10 and 11 on the right and left side of each of the four motifs.
3. You can play with adding even more repeats of rows 10 and 11 if need be.
Wide silk ribbon in a contrasting color can be sewn to the back of choker when you are finished if desired.
Directions
Foundation Motif:
1: Chain 20 sts.

2: Double crochet into 8th chain from hook, (chain 2, skip 2 ch, 1 dc) 4 times. This makes 5 spaces. Turn.

3: Ch 5, dc into dc, (ch 2, dc into next dc) 3 times, ch 2, dc into 3rd stitch of turning chain. Turn.

4, 5, 6: Same as 2nd row. This will make a square grid 5 spaces wide and 5 spaces tall.

7: Make 4 sc in corner square, sc 4 times in next space, ch 3 for picot, sc 4 times in next space, picot, sc 4, chain 12. Turn. [Fig 1 - download Asphyxiation Figures 1-6 pdf]
8: Fasten with sc over 4th sc from end. Turn. [Fig 2]
9: Fill 12 chain with (3 sc, picot) 5 times, 3 sc. Sc 4 times in corner square. Turn. [Fig 3]
10: (Chain 10, skip 1 picot of 12 chain, fasten with sc in next picot) twice, chain 10, fasten with sc at corner. Turn. [Fig 4]
11: Fill each loop of 10 chain with (4 sc, picot) twice, 4 sc. [Fig 5] This makes one corner of Venetian motif.
12: Repeat steps 7-11 with other three corners. [Fig 6]
To join on next motif (assuming you are not working them separetely and then sewing them together), work 2nd motif until you reach row 11 of first corner. Work until you reach 2nd picot of 2nd 10-chain loop. Chain 1 instead of chain 3, sc into picot of next motif (matching picots of both motifs), chain 1, sc 4. Connect next 2 picots of next 10-chain loop in the same manner. The second corner will be attached to opposite corner of finished motif the same way.
Work a total of four motifs.
Rose Centerpiece:
1: Chain 8 and join into ring. Sc into ring 24 times.
2: Chain 7, (skip 2 sc, dc in next sc, chain 4) 7 times, join to 3rd of 7 chain, forming 8 loops.
3: In each loop work 1 sc, 5 dc, 1 sc.
4: Chain 5, fasten with sc between petals making sure chain falls behind petal, repeat around.
5: Work 1 sc, 7 dc, 1 sc in each chain loop.
6, 8, 10: Work the same as 4th row, increasing chain 1 stitch each row.
7, 9: Same as 5th row, adding 2 more dc to each petal each row. Fasten thread.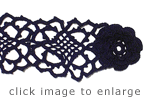 Finishing:
Block foundation motif strip, pinning out picots. Darn in any thread ends. Try on strip and center rose over ends. Sew rose to one end of strip. Overlap rose onto other end and mark areas for fasteners. Sew hooks and eyes (or snaps) carefully, making sure they do not show through the crochet.
About
contact Severina • http://vintagestitchorama.blogspot.com/ • legal info