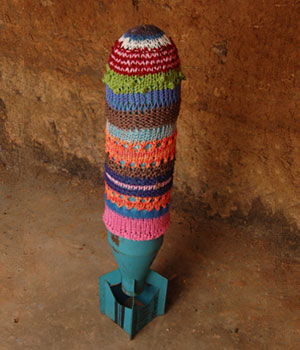 This Cosy is Da Bomb
The bomb is a M3A2 practice bomb and I assume from the graffiti on the sides that it was used in training around the time of the Vietnam war. It is just a shell with a head that unscrews. They used to fill these things with sand and a little gunpowder (so they could see where it lands) and use them to train soldiers to precisely bomb areas.

It was originally bought at a military surplus store in South Carolina for a prank. It was then left, head down, in my husband's great aunt's flower bed. It totally freaked out the uptight conservative neighbors. Over the years she would pull it out from time to time as a joke. She used to have a ticking alarm clock that she would place in the body to scare her bridge mates and she would drive around with it in the backseat of her car to scare the mechanics.

It had been sitting in her basement for at least 20 years along with a bunch of vintage furniture, and when we moved she said we could have any of the furniture in the basement since she no longer uses any of it. That is when she told us all about the bomb. We didn't ask to take it since it seemed to be connected to a lot of great memories. Then, a couple of months ago at a family dinner she said that we should come over and get the bomb. Right now it sits in our living room, but as soon as we buy a house we are going to design a garden around it.

This is not so much a pattern as a guideline. So be creative and just let the knitting flow.
Difficulty
MoonPrincess RavenDark
Click here for definitions of difficulty levels.
Finished Measurements
Fits one M3A2 practice bomb
Materials
Approximately 300 yards of scrap yarn, any color or texture.
1 set US 17 (12.75mm) double pointed needles
Gauge
6sts x 7 rows = 4" (10cm) in stockinette stitch.
Directions
Begin:
CO 45 stitches.
Rnd 1-4: k2,p2 to end.
For the next 3 feet experiment with different stitch patterns and yarn textures. When your cosy is long enough to cover the shaft of your bomb, start the decrease.
Decrease:
Odd rounds: decrease 9 stitches evenly across the round.
Even rounds: k all sts.
When only 9 stitches remain, break yarn and draw it through remaining stitches.
Finishing:
Weave in ends.
About