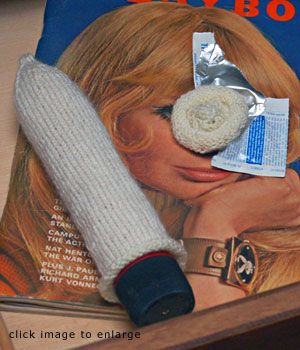 Old Reliable
Warning: People who use the knitted condom have a much higher risk of pregnancy and STDs. The knitted condom may also cause burning, chaffing, vaginal dryness, loss of errection, and extreme pain. People who want to enjoy sex should not use the knitted condom.
Suggested Listening
Let's Get It On
by Marvin Gaye
Difficulty
MoonPrincess RavenDark
Click here for definitions of difficulty levels.
Finished Measurements
Varies depending on the measurements taken.
Materials
1 ball Bernat Baby Fingering Weight Yarn in white
1 set US2 (2.75mm) double pointed needles
Gauge
35 sts x 36 rows = 4" (10cm) in stockinette stitch.
Directions
Shaft:
Measure your or your partner's erection length and circumfrence. If the circumfrence is significantly larger than average (about 4.5", according to afraidtoask.com), you will have to adjust the pattern below.
CO 35 stitches evenly on 3 dpns and join.
K all until tube measures the length you need.
Next rnd: *k4, k2tog* repeat to end of rnd.
Resevior Tip:
Rnd 1: *k5, k2tog* rep to end.
Rnd 2: k all sts.
Rnd 3: *k4, k2tog* rep to end.
Rnd 4: k all sts.
Rnd 5: *k3, k2tog* rep to end.
Rnd 6: k all sts.
Rnd 7: *k2, k2tog* rep to end.
Rnd8-16: k all sts.
Finishing
Break yarn and draw it through remaining stitches and pull tight. Weave in ends.
About