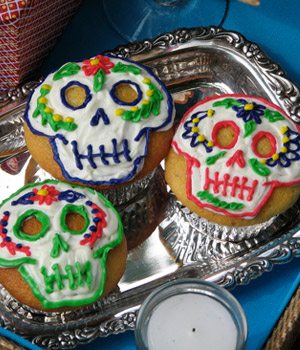 Zabet Stewart (photo)
Magdalenas de Muerto
The rich flavor of Pan de Muerto is inserted in these sweet magdalenas without all the labor of making the traditional bread. Decorated with frosting to resemble sugar skulls, they'll be a perfect ofrenda for your Day of the Dead altar.
Suggested Listening
The Artful Cupcake by Marcianne Miller
Difficulty
Rrrrgh . . . . Brains . . . .
Click here for definitions of difficulty levels.
Download
Full page recipe (pdf format)
3x5 card recipe (pdf format)
Ingredients
U.S.
Metric
Ingredient
3 Tbsp
20 g
anise seed, divided
1 c
250 mL
water
2
oranges, zested
1 box
yellow butter cake mix
6 Tbsp
85g
butter, softened
3
large eggs
1 can
vanilla flavored cake frosting
1 box
assorted food coloring to tint frosting
You Will Also Need
cupcake liners
muffin pans
microplane zester
pastry bag
round piping tip (Wilton/Ateco #402-10)
parchment paper to make cornets
Chef's Notes
Video tutorial for making a paper cone (cornet).

The AntiCraft assumes any well stocked basic kitchen to have certain things on hand. (Click for our basic kitchen items list.)

Makes 20-24 cupcakes. Prep time: 15 minutes. Cook time: 20-24 minutes.
Directions
Insert the cupcake liners into the muffin pans and preheat your oven to 350ºF/180ºC.

Place 2 Tbsp/14g anise seed and the water into the sauce pan and bring to a boil over medium high heat. Remove from the heat, cover and let the seeds steep in the hot water for 10 minutes. When fully infused, strain the seeds from the water and discard them. The anise infusion will be used to flavor the batter.

While the seeds are steeping, zest the oranges and place the zest aside to incorporate after mixing the batter fully. In a mixing bowl, add the cake mix, softened butter, eggs, the remaining anise seed and the anise infused water. Mix until fully blended and then fold in the orange zest with a spatula. When fully incorporated, fill cupcake liners 2/3 full, and bake for 20-24 minutes until done. Cool on a wire rack until completely cold.

Use half the can of frosting in the pastry bag fitted with a round tip to frost the magdalenas to resemble sugar skulls. Divide the rest of the frosting up, tint with the cake colors, and load into cornets to pipe the bright details of the sugar skulls.
About
contact Raellyn: • legal info