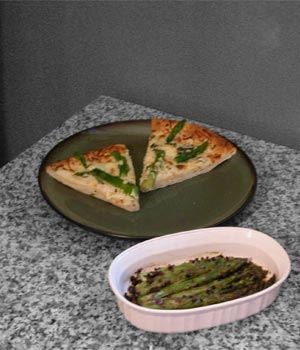 On Asparagus
Difficulty
Rrrrgh . . . . Brains . . . .
Click here for definitions of difficulty levels.
Project Notes
Although Asparagus is now available fresh year round in your local grocery store, to a gardener it's the first sign of summer. Around the first of May young shoots are ready to be harvested. Depending on where you live, your harvest will last until around mid June. European tradition holds that asparagus disappears in the fires of St. John the Baptist's day on June 24th.

Asparagus is native to the Mediterranean and has been eaten for thousands of years. Considered Spring's most luxurious vegetable, it was once used more for its medicinal value as a natural remedy for it's blood cleansing and diuretic properties. During the Renaissance it was considered an aphrodisiac and banned from the tables of nunneries. Because of its phallic shape and sensual appeal, asparagus was forbidden in girls' schools well into the 19th century by nuns who feared it would, heaven forbid, excite the senses and imaginations of innocent young ladies.

Asparagus is a hardy perennial and is the perfect vegetable for the lazy gardener. Once you've established your bed, which may take up to three years of resisting a harvest, it's good for 15 to 20 years or more after that. Because you don't work the soil every year, gardeners often forget that their asparagus needs a boost every spring and liquid compost or "worm tea" works great for that. Make yourself a Worm Wagon and move it across your asparagus bed in the Spring to let the worms do the work for you. Even after your spring harvest your asparagus will continue to reward your hard work with Asparagus Ferns, long feathery greenery that you can cut and use in floral bouquets. Use common sense and wear gloves when handling asparagus ferns and their berries (seeds), or when dividing the root balls, as they are a little poisonous. For more information on growing asparagus, I've gathered some related links at the end of this article.

Asparagus is one of those vegetables that I learned to eat only recently. My Grandmother, who raised me, was the worst cook imaginable so it was not on our dinner table. Besides, with that whole aphrodisiac thing I'm sure that my Grandfather was silently grateful.

If your love life is lagging you might want to try one of these recipes. What could it hurt? Don't balk at the garlic, either, it's long been considered an aphrodisiac as well.
Stir-Fried Asparagus with Garlic
Ingredients


2 pounds fresh asparagus
3 garlic cloves, minced
2 tablespoons canola or vegetable oil
3 tablespoons soy sauce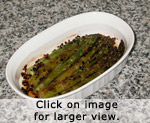 Snap off the tough bottom ends of the asparagus. Good, fresh asparagus will snap in the right place all on its own. Sauté asparagus and garlic in hot oil in a large skillet or wok over medium-high heat 3 to 5 minutes or until asparagus is crisp-tender. Add soy sauce; reduce heat to medium-low and cover. Cook 5 minutes or until asparagus is tender. Makes 6 to 8 servings.
Parmesan Asparagus Pizza
Ingredients


.5 pound fresh asparagus
1.5 tablespoons butter at room temperature
.25 cup (packed) parmesan cheese
1 tablespoon chopped fresh basil (or 1 tsp dried but fresh has better flavor)
1 large garlic clove, minced
1 teaspoon fresh lemon juice
.5 cup shredded mozzerlla cheese
1 large pre-made pizza crust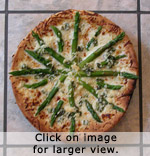 Bake pizza crust according to directions. Set aside.

Remove woody bottom ends of asparagus. Cut in half lengthwise. Cook asparagus in large pot of boiling salted water until just crisp-tender, about 3 minutes. Drain thoroughly.

Spread mozzarella cheese on crust. Arrange asparagus on crust.

Preheat broiler. Wisk butter in medium bowl until fluffy. Mix in cheese, basil, garlic and lemon juice. Drop butter mixture by teaspoonfuls over asparagus.

Broil pizza until topping browns, watching closely to avoid burning (about 3 minutes). Serve hot. Makes 4 2-slice servings.
Related links
University of Illinois - Watch Your Garden Grow - Asparagus
Don't Eat This Asparagus (the asparagus fern as a houseplant)
Photo of asparagus fern berries
Photos of wild asparagus
About