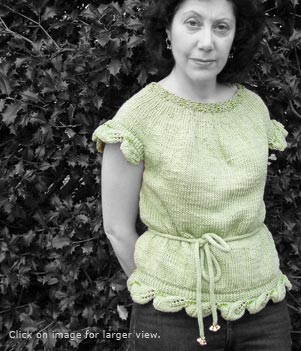 Green Woman
Hal-an-tow, jolly rumble-o
We were up, long before the day-o
To welcome in the summertime
To welcome in the May-o
For summer is a comin' in
And winter's gone away.

-"Hal-an-Tow" by Oysterband
Suggested Listening
Trawler or Granite Years
by Oysterband
http://www.oysterband.co.uk/
Difficulty
Strong Intermediate
Click here for definitions of difficulty levels.
Finished Measurements
Bust measurement for size A: 30"(B: 32.5"; C: 35"; D: 37.5"; E: 40"; F: 42.5"; G: 45")

Note on sizing: Garment is close-fitting and cotton relaxes as you wear it. Choose size closest to your actual bust measurement. If you are in between, go with the smaller size.
Materials
1 set straight US 6/4mm needles or size needed to for gauge
1 24" circular US 8/5mm needle or size needed for gauge
TLC Cotton Plus, (3.5 oz/100g ball) Kiwi

A: 3 balls
B, C, D: 4 balls
E, F, G: 5 balls

one small packet (about 15 g) green glass beads, or contrast color of your choice; bead hole must be wide enough to string yarn
6 - 8 mini bells
stitch markers
Gauge
Border: Each leaf motif is 2.5" wide (18 row repeat) with smaller needles. Motif gauge is important, since it affects final width of garment.

Body: 19 sts and 24 rows = 4" with larger needle.
Project Notes
Tunic is worked from the bottom up. Leaf border is worked first, then body stitches are picked up at border edge and garment is worked in the round to the neckline. Beads are worked in the leaf border and at the seed stitch neckline. Use your favorite method to insert beads as you knit, or consult Sarah Bradberry's excellent tutorial at:
http://www.knitting-and.com/knitting/patterns/stitches/beady.htm

String beads on first ball of yarn. I used three beads for each motif; you may use more or less. Just don't go "bead crazy" as this may weigh down and distort your fabric.

Bead placement: I inserted beads on rows 13, 15 and 17 after the first 5 sts are worked on each row, i.e., after K4, P1. This accents the stem of the leaf. Please feel free to vary this embellishment.

Leaf Border: Taken from The Pattern Library: Knitting, Ballantine, 1981, also in Barbara Walker's Second Treasury of Knitting Patterns.
Directions
Bottom Leaf Border: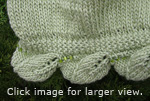 With smaller needles, CO 8 sts.

1: (RS) K5, yo, K1, yo, K2

2: P6, K into front and back of next st (inc), K3

3: K4, P1, K2, yo, K1, yo, K3

4: P8, inc in next st, K4

5: K4, P2, K3, yo, K1, yo, K4

6: P10, inc in next st, K5

7: K4, P3, K4, yo, K1, yo, K5

8: P12, inc in next st, K6

9: K4, P4, sl 1, K1, psso, K7, K2 tog, K1

10: P10, inc in next st, K7

11: K4, P5, sl 1, K1, psso, K5, K2 tog, K1

12: P8, inc in next st, K2, P1, K5

13: K4, P1, K1, P4, sl 1, K1, psso, K3, K2 tog, K1

14: P6, inc in next st, K3, P1, K5

15: K4, P1, K1, P5, sl 1, K1, psso, K1, K2 tog, K1

16: P4, inc in next st, K4, P1, K5

17: K4, P1, K1, P6, sl 1, K2 tog, psso, K1

18: P2 tog, cast off next 5 sts using P2 tog to cast off first st; P3, K4

Repeat Rows 1-18, 12(13, 14, 15, 16, 17, 18) times, for a border strip of 216(234, 252, 270, 288, 306, 324) rows.
Body:
With larger circular needle, right side facing, pick up 9 garter stitch ridges in each leaf motif, for a total of 108(117, 126, 135, 144, 153, 162) sts. Place marker at beg of rnd, and join for first rnd.

1: Inc 34(37, 40, 43, 46, 47, 52) sts evenly around, for a total of 142(154, 166, 178, 190, 200, 214) sts

2: Slip marker for beg of rnd, K 71(77, 83, 89, 95, 100, 107), pm, K 71(77, 83, 89, 95, 100, 107)

Continue knitting in the round for 13(13, 13.5, 14, 14.5, 15, 15.5) inches or desired length to underarm.
Divide for Front and Back:
Front and back are worked alike. For the front:

1: (RS) BO 2(3,3,4,4,4,4) sts at beg of next row, K to next marker, slip remaining 71(77, 83, 89, 95, 100, 107) sts to a piece of waste yarn to work later

2: (WS) BO 2(3,3,4,4,4,4) sts, purl to end, 67(71, 77, 81, 87, 92, 99) sts on needle

3: Dec row: K1, ssk, K to last 3 sts, K2 tog, K1

4: Purl

5: Knit

6: Purl

7: rpt row 3

8: rpt row 4

9: rpt row 5

10: rpt row 6

11: rpt row 3

12: rpt row 4

For size G only, rpt rows 5, 6, 3 and 4 one more time.

You should have a total of 61(65, 71, 75, 81, 86, 91) sts on needle. Cut yarn, slip sts to waste yarn, rejoin yarn at side of second section and work the same.
Yoke:
Joining row: Do not cut yarn. Turn and K across sts on needle, CO 22(24, 26, 28, 30, 32, 34) sts for sleeve cap, work across 61(65, 71, 75, 81, 86, 91) sts of second section, CO 22(24, 26, 28, 30, 32, 34) sts for second sleeve cap, pm, rejoin and resume knitting in the round. Knit 10(10, 12, 12, 15, 15, 18) rnds even.
Yoke Decreases:
Same for all sizes.

Dec R1: K3, K2 tog around

K 6 rnds even

Dec R2: K2, K2 tog

K 6 rnds even

Dec R3: K2, K2 tog
Neckline:
Cut yarn and prepare a small ball with beads for neckline embellishment. Be generous in your estimate of how many you will need. I used about 60 for size C. Rejoin yarn and work 1 rnd plain seed st, 4 rnds seed st with beads, 1 rnd plain seed st, BO in seed st. Stagger beads every 4-5 sts, or place at random.
Sleeve Cap Borders:
Measure sleeve cap width. This should be between 4" for the smallest size to about 7.5" for the largest, but may vary because of individual differences in gauge and yarn "give." Make two leaf border strips to measure approximately 1/2 inch less than cap width. You may have to add a few 5 st garter st rows before and after the leaf motifs to get the right length. Four leaf motifs, with these additional rows, should be wide enough for all sizes.
Finishing:
Attach finished leaf borders to sleeve caps, grafting garter ridges to St st . Sew leaf border edges together at side bottom edge of tunic. If desired, work 1 row single crochet at bottom of armholes. Make a crochet or I-cord belt and embellish it with small bells to get you in the mood for Morris dancing. Wear for all your May Day revels, or for a hot date with the Green Man! If you can't make it to Cornwall to celebrate Beltane and the summertime in style, you can listen to mood music from Oysterband or be a gypsy and read Federico García Lorca's "Romance sonámbulo", which is all about the color green:

Verde que te quiero verde.
Verde viento. Verdes ramas.
El barco sobre la mar
y el caballo en la montaña.
Con la sombra en la cintura
ella sueña en su baranda,
verde carne, pelo verde,
con ojos de fría plata.
Verde que te quiero verde.
Bajo la luna gitana,
las cosas la están mirando
y ella no puede mirarlas.

Romancero gitano (1924-1927)
in The Collected Poems: A Bilingual Edition
ed. Christopher Maurer, Farrar, Straus, 2002
About