Sonic Snowflake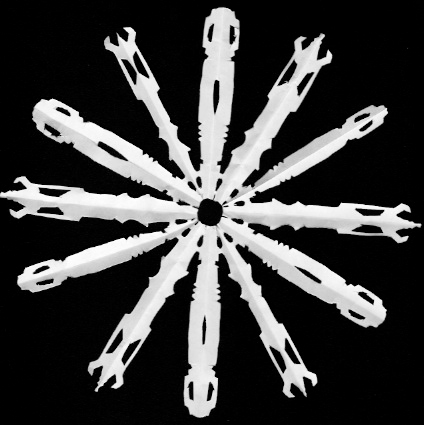 Suggested Entertainment
Difficulty
Boy Scout Burnout
Click here for definitions of difficulty levels.
Finished Measurements
~8"/20cm square
Download
US Letter Sonic Snowflake template (pdf)
Materials
Printer
Hobby knife
Scissors
Bone folder
Design Notes
Use the thinest paper that you can reasonably print on; standard paper is fine, just don't break out the resume paper, cardstock, etc. Use a bone folder, the side of a ruler, or a capped marker to make your creases extra tight. Start with the small fiddly sections; having the rest of the paper intact will give strength and stability that makes the fiddly bits easier to cut out.

Never made a paper snowflake? Watch a tutorial first.
Directions
Print out the snowflake template, cut away grey area. Fold in that "I'm makeing a snowflake" way, then cut out and discard the light blue areas. Allonz-y!
About
contact Raeven: • legal info