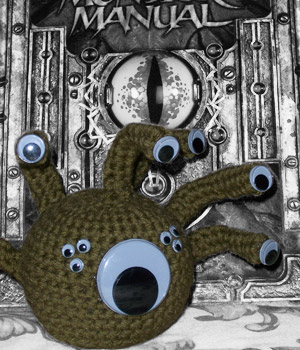 Leah B. (photo)

Shoulder Beholder
Beholders are one of the best known monsters from Dungeons and Dragons. They pop up everywhere. In fact, they're one of the more horrifying things to run into, since each of their eyes is capable of a different spell of ability.

I had been promising The AntiCraft a Beholder hat for a while, but since I am an Angstylvanian by nature I decided that a hat was too much effort, so I crocheted a miniature version that turned into an amigurumi which can sit on your shoulder if you're a chaotic retarded pirate. Therefore this creature came into being from my promise of a Beholder crochet pattern and my own lazy arse.
Suggested Reading
Advanced Dungeons & Dragons Monster Manual by E. Gary Gygax, 1977 (or any of the many later versions of that series)
Suggested Viewing
Dungeons & Dragons (1983 rated TV-Y7) animated series on DVD, some episodes of which were written by Dave Arneson and E. Gary Gygax.
Difficulty
Coquette
Click here for definitions of difficulty levels.
Finished Measurements
11" (27.9cm) around body just under the first set of eyestalks; about 6" (15.2cm) H from bottom to tip of top-center eyestalk (slightly bent) and 7" (17.7cm) W from tip of leftmost eyestalk to tip of rightmost eyestalk (also slightly bent). Your Beholder will vary.
Materials
Worsted weight yarn, any kind, but acrylic just adds to the horror of the Beholder
Size H (UK size 5, or 5.5mm) crochet hook
Fiberfill
1 large craft eye
6 medium craft eyes
6 small craft eyes
6 3.5"-4" pieces of wire
E6000 craft glue
Tapestry needle
Gauge
N/A for amigurumi.
Design Notes
US terminology is used for all instructions. (Click for US to UK conversions.)
Directions
Body:
Ch2, join with slip stitch to form round.
Rnd1: Sc 6 into center of round
Rnd 2: 2 Sc into each stitch (12 stitches)
Rnd 3: 2 Sc into each stitch (24 stitches)
Rnd 4: *Sc, 2sc* repeat ** until end of round (36 stitches)
Rnds 5-16: Sc into each stitch
Rnd 17: *Sc, Sc2tog* repeat ** until end of round (now would be a good time to add the fiberfill, before it gets to tight to stuff)
Rnds 18-end: Sc2tog until you only have 2-3 stitches left. Break yarn and bind off crochet, running yarn through remaining stitches and pulling tight to seal off the Beholder body.
Eyestalks:
(Make 6 or desired number; increase or decrease supplies as needed)
Ch2, join.

4 Sc in center of chain, reserving the initial 2 chain stitches.

Sc in each stitch (6 stitches total) and crochet in the round until piece measures approximately 3 inches or desired length.

Break yarn and bind off crochet, leaving a long tail. No fiberfill is needed.
Finishing:
Insert the wire into each arm, with the left-over length sticking out of the end you intend to stick into the body. Use a pair of needle nosed pliers or jewelry pliers to make a small loop on the into-the-body-end, so that it won't poke out the bottom and stab you; the eye-end should bump up against the back of the eye and be fine, but you can add a loop on that end if you like a well. Using the long tail of each arm, sew the arms to the body in desired fashion. Weave all ends into the body.

Using glue and craft eyes, attach the large eye to the center of the body, the medium eyes on each arm stalk, and the smaller eyes in any fashion around the big eye. E6000 glue found at craft stores works well, just make sure you have something that'll bind to fabric and plastic (check ThisToThat.com). Let the eyes dry. Alternately, craft eyes are also available with a shank on the reverse so they can be sewn on.
About
contact Leah: • http://magicknits.blogspot.com • legal info