Currently Taking Residence in the Freebie Box:
Craft and How-To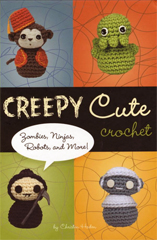 Creepy Cute Crochet
by Christen Hayden
reviewed by Zabet Stewart
If you've ever fallen in love with some of the adorably goulish amigurumi patterns on Etsy, chances are that they come from Christen Haden, better known as NeedleNoodles. Haden specializes in stunningly cute creeping horrors, mythic figures, and little warriors. This collection of 19 projects covers ninjas, amazons, vampires, zombies, and everything in between. Creepy Cute Crochet assumes you are comfortable with some crochet basics like slip stitch and single crochet, but steps you through techniques that are used in amigurumi. She also gives instructions on how to create accessories for your creations out of felt or polymer clay. International crocheters will want to note that she gives a conversion chart for hook sizes from US to metric, but does not include a stitch name conversion chart for U.K. stitch names. The presentation is still a bit perky, but amigurumi can't NOT be perky, and it's at least tempered with fez-wearing monkeys. Overall, Creepy Cute Crochet is a fantastic first foray into crochet amigurumi.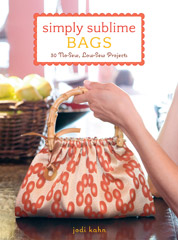 Simply Sublime Bags: 30 No-Sew, Low-Sew Projects
by Jodi Kahn
reviewed by Zabet Stewart
If you've not heard me say it before, let me restate it now: The sewing machine scares the bejesus out of me. The only thing I can think of when looking at one is "multiple puncture wounds". The sewing machine does not beckon me closer with stories of a quick and efficient job well done; instead it leers smugly and offers me the chance to hurt myself faster and harder than I've ever done it before. It's partially a threat, partially a dare, and partially a promise. For a girl who triple-pierced her ears and added holes in her nose and tongue, not to mention has two tattoos, that is saying a lot.

This book was written with me in mind. It has instructions for putting in a zipper with a stapler and duct tape, fer crissakes.

The book takes you through a load of easy-to-find-but-not-usually-made-into-purses materials, such as Caution tape, placemats, wallpaper, bubble mailing envelopes, pot holders, Monopoly® money, and artificial turf. The instructions are very clear and accompanied by step-by-step schematics. The patterns range from small clutches to big enough to carry all your picnic needs, and several caught my eye. I got hooked up with some "Caution! Radioactive Material!" tape that I've been wondering what to do with (after, of course, tagging every microwave in a 50 mile radius), and now I know.

The only down side seems to be the insanely perky design and overload of pink. It's as if the publisher thought I might forget I'm a girl while looking at this book filled with handbags. Crazy, isn't it? Eh, I'll make myself a radioactive clutch anyway.


Fiction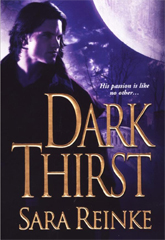 Dark Thirst (The Brethren Series, Book 1)
by Sara Reinke
reviewed by Zabet Stewart
I saw Dark Thirst while sitting at our booth at the Bluegrass Festival of Books in May. Vampire romance novel from a local author - how could I resist? I was not disappointed. Let me break the plot down for you. Vampire: Dashing, deaf, Caucasian boy from a Kentucky family obsessed with keeping the blood "pure." Love Interest: Courageous, African-American cop. Can you say bi-racial vampire babies? Yes you can!

Reinke gives a new spin on vampire mythology and creates a pretty solid universe. While I'm by no means fluent in ASL, my parents and I studied it in the early 80s when we lived near the Colorado School for the Deaf and Blind, and Reinke's insertions of signs are done quite well, feeling natural rather than heavy-handed. There is, of course, an over-abundance of description when it comes to clothing, but that's a sin of the entire romance genre and is to be expected.

Dark Thirst is the first installment of The Brethren Series. Book two, Dark Hunger, is due out in September 2008.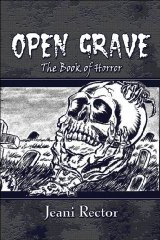 Open Grave: The Book of Horror
by Jeani Rector
reviewed by Kim Colley
Open Grave is a collection of short stories and novellas purporting to be in the horror genre, as indicated by its subtitle, The Book of Horror. The first tidbit in the collection, "Cat's Eye," involves a scene of animal mutilation, which is certainly shocking. The stories following this grim opening have horror as their subject matter, but a rather tepid sort of horror. They're the kind of stories you could feel comfortable reading to your tweens on Halloween night, if you enjoy that sort of thing. They demand, on the whole, a suspension of disbelief of which only a child is capable. For instance, the novella, "Ghoul," opens on a session between a psychiatrist (the narrator) and patient. I've graced the couches, chairs, and tissue boxes of many a shrink, and the improbabilities presented in that opening scene were simply too much for me to swallow. The remainder of the stories are quite a bit shorter, and would pass the time in a dentist's waiting room quite handily. This collection is presented through PublishAmerica, and for a self-published book, is admirably free from typographical and grammatical errors.

If you like your scares on the tame side—think Christopher Lee in the old Hammer Studios movies—Open Grave could be just your cup of milky tea.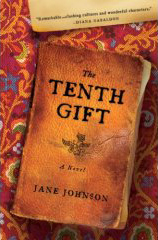 The Tenth Gift
by Jane Johnson
reviewed by Renée Rigdon
When The Tenth Gift arrived in the mail, I was pleasantly surprised to see that The AntiCraft had been given an opportunity to review fiction. I enjoy craft books as much as the next person (assuming the next person really enjoys craft books) but sometimes I like to curl up with a big glass of rum and a good book and read until my vision blurs and I pass out, falling out of the bed, knocking my eye against the nightstand, and waking up thinking my husband has begun beating me in my sleep. That tangent aside, I was excited, especially to learn that the main character of the book was an embroiderer! Oh happy day!

The Tenth Gift is a tale of adventure and romance set against the backdrop of exhaustively descriptive exposition, often about clothing or the aforementioned embroidery. Really, there is not much to say about the book beyond that, because the descriptions were so thick that it was near impossible to remember what was happening in the story once past them. In an effort to give this book the fairest possible review--as it wasn't my cup of tea at all--we had a reading party wherein four of us attempted to navigate the psychotically detailed backdrops of both present-day London, and 1625 Cornwall. This provided us with laughter, but not much of a grasp of how this book was considered good fiction.

Perhaps my favorite part of this novel was the way the author cleverly inserted her lack of knowledge about her subject material into the narrative by mentioning outright that the main character had no knowledge of the subject material. The main character then proceeded to learn about apparently the entire seventeenth century from a set of children's encyclopedias that had no respect for alphabetical order, but did manage to smell of face powder. My second favorite part was when the main character considered throwing herself off a cliff.

All this said, we only made it about sixty pages into the book before I cried out in anguish and swore to never read again. So if you like densely-written romance-adventures with a focus on embroidery, you might give this book a go.