Micro Reviews: When Ya Got Something to Say but It Ain't a Lot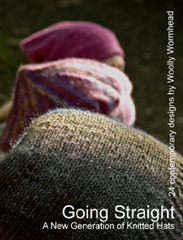 Going Straight: A New Generation of Knitted Hats
by Woolly Wormhead
reviewed by Zabet Stewart
Ok, I'm going to skip my usual Woolly Wormhead fellatioathon* because you all have heard me do it several times before. This book rocks in several ways:

1. Since she is publishing through Lulu.com, you can get a PDF copy (cheapest) or a perfect-bound or spiral-bound copy.

2. It includes no less than 7 kitchner stitch (grafting) full-color tutorials for all kinds of graft-this-stitch-to-that-stitch scenarios.

3. That's in addition to the tutorials on provisoinal cast ons, short rows and picking up wrapped stitches, and kitchnering over wrapped stitches.

4. There are 24 hat patterns, at least 18 of which you will find gorgeous. (Which 18 will vary from person to person.)

*This is particularly funny given Ruth's past projects with The AntiCraft.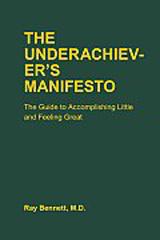 The Underachiever's Manifesto: The Guide to Accomplishing Little and Feeling Great
by Ray Bennett, M.D.
reviewed by Zabet Stewart
In case you haven't noticed, I'm an underachiever. (Mom, Dad, you happy? I finally admitted it.) But here's the thing: there's nothing wrong with that. And I even found a medical doctor who will back me up on this. Quoth Ray Bennett, "To seek perfection is to be cursed to find fault in the perfectly adequate, enjoyable, or even just plain good." I can't tell you how long I have been making myself miserable over this whole lack-of-a-Masters-Degree thing, and damn it feels good just to let it go and enjoy my insane internet stardom.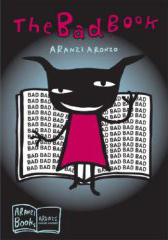 The Bad Book
by Aranzi Aronzo
reviewed by Zabet Stewart
We at The AntiCraft first met Aranzi Aronzo (which, yes, we realize is the name of the company, not a person) in Lughnasadh 2007 when we reviewed The Cute Book. With great anticipation I acquired The Bad Book hoping to find more grumpy plushies to make. In fact, I were quite suckered in by this line from Amazon.com's book description:

"Each comics [sic] vignette acts as a companion guide to creatures they will teach you to make in easy steps that require little more than thread, needle and fabric!"

And yet, when the book arrived in my greedy little hands and I strained my flipping muscles from reading it so fast, I was disappointed. Why?

THERE ARE NO PATTERNS IN THIS BOOK.

Ok, I'm not an idiot. I can see how any of the new characters (new to me, at least) in this book could be easily made out of felt à la the cast of The Cute Book. But that's not the point. The point is someone marketed it as a book of projects and they lied. The bastards.

So, based on what it actually is—a hardback comic book—I can't really say it's worth the money. I am fond of Bad Guy, the main character of this book who has mini-adventure after mini-misadventure, but the comics are only passably amusing. (Perhaps because I am not Japanese? One must admit their brand of humor can be hard for gaijin to grasp sometimes. Or possibly it's because I am not a 10 year old.) The glut of new characters are shown only briefly. Ten bucks is pretty steep right now for Chez Zabet to pony up for a project book that delivers no projects and little to no entertainment. I will admit that I am now very leery to buy any of Aranzi Aronzo's other books like Cute Dolls and Fun Dolls.

The moral? Read the reviews on Amazon.com before buying. But there I was, trying to keep myself from being influenced by others before writing my review, like a great big git. *sigh*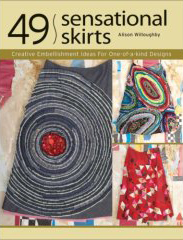 49 Sensational Skirts: Creative Embellishment Ideas for One-of-a-kind Designs
by Alison Willoughby
reviewed by Zabet Stewart and Sarah Hood
I had asked to review this book based entirely on the description and had not seen the cover. Big mistake! I must admit that the first thing that rolled out of my mouth when I pulled it from the envelope was, "Oh fucking gods!" And not in a good way, poppets. The skirts are definately one-of-a-kind, if by the kind which they are all one of you mean "ugly." I was stunned with the ugly. Several of the designs make the whisper-thin model look fat in odd places. I put the book down and hid it to clear the palate and then took another look after a few days. Nope, still ugly. And not exactly practical. The author is an artist and her medium is skirts, that much you can tell without reading the heavily marketing-ized press releases sent along with the book, but I can't help but feel that she's been instructed to dumb it down for laypeople and the art of the skirts is not translating well to a wear-it-on-the-street kind of level.

I asked Sarah Hood of ReBelle (one of The AntiCraft Headquarters' resident seamstresses) to look at the many technique tutorial sections since I still fear the sewing machine and most of it is Greek to me. She responded that the instructions were clear if a bit concise, and while they were adequate for her, an experienced seamstress, she thinks some people might wish they were more detailed. She was unhappy that secure seams were not covered, but then noted that "with all the texture and raw edges in her skirts, most of them aren't really made for heavy wear and washing anyway."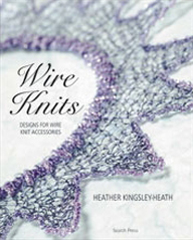 Wire Knits
by Heather Kingsley-Heath
reviewed by Zabet Stewart
I have been privy to several lengthy conversations in the comments on the blog and in the new AntiCrafter's Annoymous forums about folks being afraid of wire knitting. I tried to nicely cajole the scaredycats into it, but the time for cajoling is now over. Put on your big girl panties, you sissies, and just try it. The very worst that will happen is you'll lose $2 over a spool of copper craft wire.

That said, Wire Knits is a completely nonthreatening entry into the world of knitting with wire. In fact, I say very nearly the same thing in an earlier article on wire knitting, just not as politely and Britishly as Ms. Kingsley-Heath (though I do hold that wooden/bamboo needles are best and she claims any type will do). The projects are interesting and shouldn't spook a new wire knitter. There is a large focus on flowers, but just remember that you can find black craft wire pretty easily.

Also? I don't know who was responsible for the cover art, but on my copy at least the beautiful close-up photo is entirely pixelated as if the designer forgot to replace a comp with the real thing, and as far as I'm concerned he or she should be sacked for it.