Currently Taking Residence in the Freebie Box:
Craft and How-To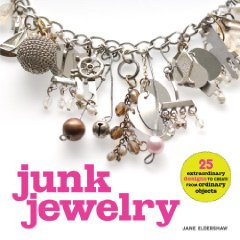 Junk Jewelry: 25 Extraordinary Designs to Create from Ordinary Objects
Jane Eldershaw
reviewed by Zabet Stewart (but heavily influenced by Sage Tyrtle)
This little book has some interesting information in it about the artistic history of "junk jewelry" (i.e., jewelry that is not made of precious gems or metals; jewelry that contains no jewels) and is a good introduction to the bits and tools and findings used in jewelry making. Largely, however, it's full of pep talks about expressing yourself and trying unusual new things. By the end I was little uncomfortable with how much emphasis the author was putting on clothing as a form of self expression. Yes, if you wear pink, frilly things someone can figure out you like pink, frilly things! Just as if you wear comfortable clothes someone might take an educated guess that you like comfortable clothes! She keeps hammering at it as if it's the only rational explanation she's got for spending so much time making jewelry.. or as if it's the only thing she can think about making jewelry that her publisher understands and can market.
This is yet another in a long list of craft books that makes me think, "Shouldn't people be able to figure this out on their own?" But then I remember that most people are monkeys, and stupid monkeys at that, who need to be guided through every step of the "creative process" so they can feel they are being creative without having to actually rub any brain cells together. You may think that's harsh, but I have (true story!) stood in a yarn store and heard a woman say, "Oh, I like that sweater pattern, but I'd never make it. I don't like the color." Yikes.

Not one I'll be keeping, but as gift for a niece or nephew in the 10-12 yo range? Perfect to help them start thinking outside the box they've already been put in—children are vulnerable to indoctrination, you know.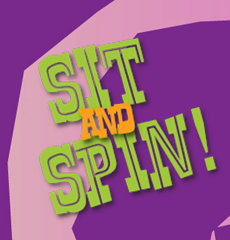 Sit and Spin! The Spinner's DVD Guide to Creating Smart, Sturdy, Outrageous Art Yarns!
with Jacey Boggs
reviewed by Robyn Wade
If you are looking for the inspiration to pull out your spinning wheel and create something a little different, Sit and Spin is just what you need. Jacey Boggs of Insubordiknit has created an instructional DVD as colorful and fun as the art yarns that come flying off of her wheel. The DVD is divided into five categories of art spinning: puffs, coils, wraps, loops, and foreign objects; each featuring three different techniques. Jacey breaks every technique down in to easy to remember terms and even has a feature on the DVD where you can loop the technique while you are practicing. Currently, the DVD is only available through her website at http://www.insubordiknit.com/video.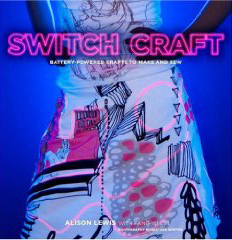 Switch Craft: Battery-Powered Crafts to Make and Sew
by Alison Lewis with Fang-Yu Lin
reviewed by Robyn Wade
Switch Craft is the perfect melding of technology with fun and interesting crafting projects. The book includes over 20 projects ranging from the practical laptop bag that can detect a wi-fi signal to the whimsical vibrating cat toys. The book includes detailed instructions on where to find the electrical supplies needed for each project and lots of illustrations that make the projects accessible by even the most technologically impaired. The electrical setups for the project in the book could easily be translated into other project, LED merkin anyone?
Fiction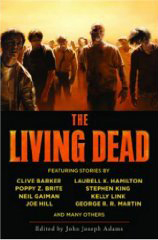 The Living Dead
edited by John Joseph Adams
reviewed by Zabet Stewart
Not sure what lucky convergence of astrological bodies has brought so many zombies to my door lately (figuratively, of course), but I'm quite happy about it.

This fairly cheap paperback is a collection of 34 zombie stories, reprinted here for your gruesome pleasure. The collection covers a range of zombie genres from some fabulous writers. My favorites thus far (I'm still reading!) include Laurell K. Hamilton's story which introduces Anita Blake and Steven King's tale of a woman coming into her own amid a zombie apocalypse. I'm looking forward to the seeing what Neil Gaiman and Poppy Z. Brite have come come up with! Nearly 500 pages of shambling terror and definitely worth a read.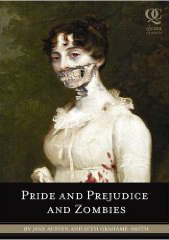 Pride and Prejudice and Zombies: The Classic Regency Romance - Now with Ultraviolent Zombie Mayhem!
by Jane Austen and Seth Grahame-Smith
reviewed by Zabet Stewart
I just couldn't do it. I couldn't make it through this book. It seems, as I have always suspected, that despite my penchant for flowery words and a slightly ridiculous grounding in old-school etiquette (which, ok, I mostly ignore, unless I'm playing the pretentious card), I am not an Austenite. Mr. Grahame-Smith's efforts were valiant, and the encounters with flesh-hungry, rotting human remains pulled me through half the book. But can't bring myself to care if Elizabeth marries the fucktard Mr. Darcy or that lecherous hump of a cousin of hers, no matter how many images of shambling orphans feasting on bloated animal corpses you court me with. There were even illustrations, my dear friends, illustrations that could not even inspire me to continue slogging through Ms. Austen's leaden prose, even when I skipped ahead to look at them all and found one with ninjas in it.

That said, if you DO like Jane Austen, and you DO like Zombies, I can't see why you wouldn't love this book. I just can't get past the Jane Austen-ness of it all.